Simpsonville, MD Quality Wood Floor Refinishing, Installations, & Restorations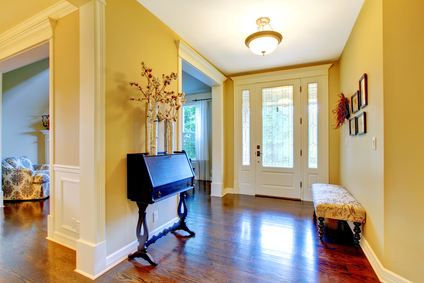 If you're looking for a wood floor specialist in the Simpsonville, Baltimore area, call on the professional wood floor refinishing and restoration experts at BR Flooring. You'll have quality wood floor care at affordable prices that help you to restore, install, or maintain you beautiful wooden floors. We've helped many customers bring their wood back to life, for both residential and commercial property owners.
Making sure your wood floors stay in good shape is important for the longevity of the flooring. You'll need quality refinishing so your floor doesn't have obvious mismatches in materials and stains, and good maintenance that ensures they're kept clean and finished will elongate the life of your floor. Keeping a good finish on your wood floor prevents water damages and the scuffs and scrapes from getting in deep. So be sure you either hire a service like ours or can keep your floor well maintained yourself.
Simpsonville Wood Floor Installation
If you own commercial or residential property in the Simpsonville area and want to install a new wood floor, give BR Flooring a call. As the premier flooring contractors in the Simpsonville and surrounding areas, you'll have the best quality flooring at competitive prices you'll love. With BR Flooring, you can have the type of wood floor you want, including the new options in wide plank bamboo and cork.
As eco-friendly materials, bamboo and cork make beautiful wood floors that are durable and naturally resistant to moisture and insects. Options range from species of bamboo that are light to very dark. Cork is less flexible with finish colors but is equally beautiful and extremely comfortable to walk or stand on. No matter your favorites, we can help you install your new wood floors!
Wood Floor Maintenance In Simpsonville
These days, our lives are filled with so many things that it only makes sense to have your wood floors maintained by professionals who can make quick but effective work of keeping your flooring in great shape. A clean wood floor will accumulate less scratches and a wood floor that's protected well with the right finish will allow shallower grooves or scratches.
The better you keep your wood floor, the better it will look for longer! Let us take care of everything for you and you'll not have to take the time or make the effort to do the work yourself!

Reviews & Testimonials on BR Flooring in Simpsonville, MD
There are currently no reviews or testimonials for Simpsonville, MD. Check back soon!

Our Services
Our graphic designers have prepared this unique layout - based on any previous marketing materials you may have provided and the style of site you indicated. This written content will be replaced once you approve the look and feel of your design.