Wood Floor Sanding Professionals in Baltimore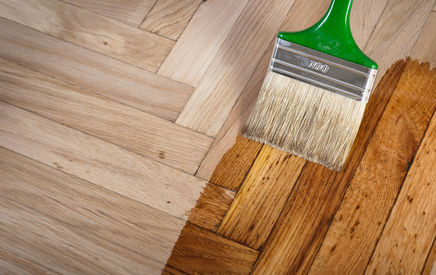 Wood floor sanding is incredibly intricate and should always be done by a professional. There's a lot to know about it as it can help in the restoration process. Call BR Flooring for details on how you can get your floors sanded by the professionals. Unfinished wood floors need to have this done in order to go on to the refinishing step. We can help take your flooring to the next level of excitement for your home and add more value to your property. Call today for a free in-home estimate and see for yourself.
Sanding is defined as the process of smoothing out or polishing a surface. It is normally done with the use of a high-powered sander that gets even the toughest bump and gauge out of a hardwood floor as they strip away the small particles.
Importance of Sanding
Sanding helps pave the way for a smoother resurfacing job. If the refinishing process is done without sanding; the surfaces of the wood will still have the imperfections they had before the process started. This is why sanding is vital in your Baltimore home.
Sanding & refinishing
Sanding and refinishing sort of go hand in hand. Because without sanding; refinishing would leave behind imperfections that are tough to remove. Coating is normally applied to seal the deal after the refinishing par.
Professional Help
Many homeowners try and take on the process themselves of sanding without realizing what they are getting into. The process is not as easy as many would like it to be and there are many problems that can be encountered along the way such as:
Renting a sander
Trying to remove scratches and other imperfections
Smoothing out entire surface
Professional help will eliminate those problems and help see the project along. You won't wait long to have newly restored floors. Your hardwoods are a huge investment so why not protect them with the services that we can offer?
Increased Home value
There are so many ways to add more value to a home. One such way is to have your flooring restored or refinished. It can help bring back the natural beauty that has been lost in it for so many years. Just because your flooring is older doesn't mean it needs to be replaced.
Call BR Flooring for wood floor sanding and increase the value of your home. It's also one of the easiest ways to remodel a room giving it a whole new look for a lot less money. We can help upgrade your home for less.

What Our Clients Are Saying
Excellent work and attention to detail. Good communicator. Goes above and beyond. Will not hesitate hiring him again for other projects.
The floors looks better than then did when new. The contractor was professional and did a wonderful job, showed up on time and performed the work as agreed. The crew was very hard working. I would highly recommend them.

Our Services
Our graphic designers have prepared this unique layout - based on any previous marketing materials you may have provided and the style of site you indicated. This written content will be replaced once you approve the look and feel of your design.