Baltimore Wood Floor Staining Services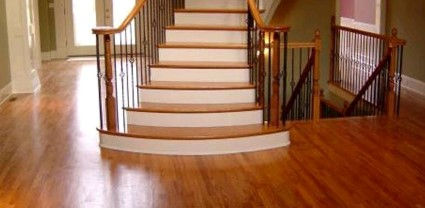 If your hardwood floors are looking bad you can always call BR Flooring to come to your flooring rescue. We'll help take care of your nightmare so that it stays away. Our flooring specialists will help restore the look and feel of your wood floors so that you can get back to enjoying them once again. Call for wood floor staining services today. We can match or change the stain on your floors professionally and effectively.
Staining is not for amateurs. You can't just go out to your local home improvement store buy some stain and brushes and get right to the job. It is a three step process and part of the refinishing process. This is why stain needs to be applied by professionals.
Process
The refinishing process offers three different stages. Each stage is important because the final product will reflect on the work. Call BR Flooring for a refinishing to your wood floors and bring back the value as they:
Sanding
Sanding is the first stage in the process that helps get all of the imperfections out form the flooring. Things such as dents, gauges and scratches can all come off using a high-powered sander that only professionals should use.
Sealing
The last step in the refinishing process in Baltimore is the sealing of the hardwood. Sealing prevents anything from getting in such as moisture and insects. You need to protect your sub-flooring from any damages that can ruin your hardwoods.
Advantages
There are plenty of advantages to staining. Securing your hardwoods helps to preserve them and that's a major advantage of having them stained. Stains come in lot of varieties to match your home's décor or to be able to try something new.
Appeal
Your flooring will be more appealing with new stain. Old stain wears over time leaving behind a dull looking finish that has absolutely no value at all. Once the stain is absorbed into your hardwoods, you will see the difference.
Floor Finishes
You have to first determine what type of finish you have as there are many hardwood floor stains that are available today. Surface finishes are popular because they are durable but if your flooring was installed before the 60's, you can assume that it's varnish/shellac.
If you're preparing your floors for wood floor staining; there is only one place that can do it all and that's BR Flooring. Our services are guaranteed to put a smile on your face as our employees are reliable and always willing to go the extra mile.

What Our Clients Are Saying
Excellent work and attention to detail. Good communicator. Goes above and beyond. Will not hesitate hiring him again for other projects.
The floors looks better than then did when new. The contractor was professional and did a wonderful job, showed up on time and performed the work as agreed. The crew was very hard working. I would highly recommend them.

Our Services
Our graphic designers have prepared this unique layout - based on any previous marketing materials you may have provided and the style of site you indicated. This written content will be replaced once you approve the look and feel of your design.