Custom Border Installation Experts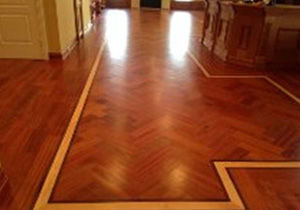 Custom borders for your hardwood flooring can be used to define a specific area or renovate an otherwise commodity wood floor into one that's upscale and top-of-the-line. BR Flooring is available to provide you with styles and patterns that are handcrafted in different combinations. Borders can be glued-down to any level of sub-flooring. Just give us a try and see for yourself how a border can improve your flooring.
A terrific way to dress up your hardwoods is to have borders, insets or inlays installed. Choosing to ad a border to a certain room's flooring will bring out the richness and appeal. They make your rooms more personable.
Adding a Finishing Touch
If you're looking for a perfect way to add a finishing touch to your flooring, consider borders by BR Flooring. We are able to create a border that best meets your personality. You can literally choose from hundreds of options.
Meeting Style & Decor
For any room, model or interior décor; BR Flooring can provide you with a border that will make your flooring more valuable in Baltimore. We'll help you get that look and style that you've been wanting while enhancing the look of your home.
Benefits
A border is beneficial to the floors because it adds depth. If your flooring seems to be normal looking and doesn't offer any personality then spruce it up by having designs inlayed. It is great for all rooms in the home that include:
Bedrooms
Bathrooms
Kitchens
Living rooms
Symmetry
Borders can add continual symmetry to your custom flooring. We'll ad d anew face to your floors so that you can have attractive rooms in the home. Borders harmonize to create a focal point and always enhance the actual beauty of the wood.
Added Home Value
Adding a border to your flooring also adds value to the home. Many potential home buyers look into extra things that are thrown into a home which add more value to the property. Adding an addition onto your floors also helps sell a home faster.
Customized Look
Customizing the floors creates an individual look for them that nobody else has. Customization also increases the appeal to the floors and makes them yours. Why be like everyone else? Be different by calling BR Flooring for further assistance.
When you make the decision to have a custom border installed onto your floors; contact BR Flooring. Our goal is to make your home more valuable and to put a smile onto your face as we offer fair and upfront pricing along with solutions for your hardwood floors.

What Our Clients Are Saying
Excellent work and attention to detail. Good communicator. Goes above and beyond. Will not hesitate hiring him again for other projects.
The floors looks better than then did when new. The contractor was professional and did a wonderful job, showed up on time and performed the work as agreed. The crew was very hard working. I would highly recommend them.

Our Services
Our graphic designers have prepared this unique layout - based on any previous marketing materials you may have provided and the style of site you indicated. This written content will be replaced once you approve the look and feel of your design.