Baltimore Wood Floor Maintenance Program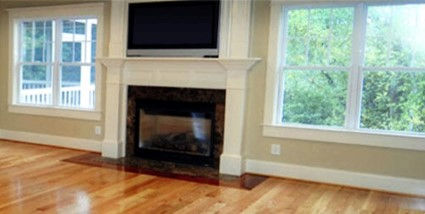 Your hardwoods always need to remain protected because even the smallest amount of dust will scratch your flooring. There are a lot of ways to do so. One way is to contact BR Flooring. With today's advancements in hardwood floor; it's no wonder that a company like BR Flooring can provide their customers with floor maintenance.
Regular maintenance requires more than just a mop or the sweeping of the floors. Call today and schedule an estimate and see what professional maintenance is all about.
Sanding and Finishing
Nothing beats the warmth and coziness of wood or ceramic flooring. Hardwoods look their best after they have been sanded. Age and time deteriorates the flooring causing it to look cheap and not attractive at all. Sanding brings out the dullness of the wood and tiles too.
Staining
Maybe the stain is coming up off of the floors. Depending on what area of the home the flooring is located; foot traffic can wear down stains leaving it unattractive and boring. It needs to be re-stained in Baltimore to restore the looks. The benefits of re-staining are:
Restores finish
Elegant flooring
Adds value to the home
Added Value
When it comes to your home; don't you wish that it was worth more than you paid so that you could sell it for more on the real estate market? Well now you can. Through maintenance it has been proven to add more value to homes across the area.
Longer-Lasting Flooring
If you have a lot of foot traffic trumpeting through the home all day then you see how it directly impacts your flooring. A worn out surface can be enough to make you want to replace it, but with maintenance such as washing, polishing, sanding and finishing the floor you can have a longer-lasting floor.
Wax and Polishes
Of course you can do maintenance on your own. Adding a wax to the flooring every year can restore the looks and make it shine even better than it was new. You can also add certain polishes to it that will secure it from needing replaced. Read every label carefully though!
Refinishing
After you have considered having your floors maintenance; it's important to take care of your investment. Protecting it will make it last. Refinishing the floors will add on another ten years if it's done consistently.
From refinishing to sanding, we have floor maintenance that can attend to all of your flooring needs. We stay up to date on the latest floor maintenance techniques so that your flooring remains safe and protected from scratching, denting and scuffs.

What Our Clients Are Saying
Excellent work and attention to detail. Good communicator. Goes above and beyond. Will not hesitate hiring him again for other projects.
The floors looks better than then did when new. The contractor was professional and did a wonderful job, showed up on time and performed the work as agreed. The crew was very hard working. I would highly recommend them.

Our Services
Our graphic designers have prepared this unique layout - based on any previous marketing materials you may have provided and the style of site you indicated. This written content will be replaced once you approve the look and feel of your design.
Contact BR Flooring
If you are looking for a Wood Floor Maintenance Program in Baltimore then please call 443-904-1020 or complete our online request form.