Resilient Flooring For Your Columbia, MD Home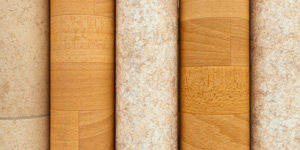 Resilient flooring is a great option for your Columbia, Maryland home. There are two main types of resilient flooring, some mostly used in residential homes and others more preferred for commercial businesses.
One of the great benefits of having resilient flooring installed in your Columbia home is that the elastic properties of the materials are great for people who stand on their feet for long periods. When you stand or walk on resilient flooring, the material gives slightly, reducing the shock on your legs, feet, and back.
It's also very good for absorbing sound. Noise reduction is helpful, especially in commercial settings where many people gather. The materials in resilient flooring types are extremely durable. The finish will last longer and the material itself is difficult to damage.
Resilient Flooring in Columbia offers homeowners long lasting, affordable flooring options. With today's advances in manufacturing, these flooring types can easily mimic other materials such as stone or hardwoods. They come in sheet form or tile form.
Resilient flooring for residential purposes includes the following types:
Residential sheet vinyl
Luxury Vinyl Tile (LVT)
Linoleum
Vinyl Tile
Resilient flooring for commercial applications includes:
Commercial Sheet Vinyl
Linoleum
Rubber Sheet
Rubber Tile
Bio-Based Tile (BBT)
Vinyl Composition Tile (VCT)
Homeowners can opt to install commercial style flooring at home, though generally this doesn't happen very often because there are so many options out there for homeowners. Cork and Bamboo flooring used to be only popular in commercial flooring installations but have been increasingly popular with residential homeowners.
Care Of Resilient Flooring
With resilient flooring, you don't have much to maintain and cleaning is easy. All you need do on most types is to sweep or vacuum the floor regularly to pick up dust and other debris. If you wipe up spills quickly and damp mop occasionally, the flooring will stay beautiful. Some manufacturers will recommend certain cleaners, but you should never use chemicals or detergents on your resilient flooring or you could damage them.
If you opt to use oil soaps or mild dish washing detergent, you'll wind up leaving a soapy residue which will cause the floor to need cleaning more often because dirt will stick to it. Always go with the manufacturer guidelines that comes with your flooring. There could be specific care requirements to prevent voiding of the warranty.
If you go with resilient flooring for your Columbia home, be sure you use protection when moving furniture or heavy objects. Felt or plastic floor protectors can be used under furnishings when moved. Chairs, tables, dressers, bedding, and other heavy objects can gouge the floor.
Placing mats both on the inside and the outside of your home's entry doorways will help to keep dirt and grit from scratching the flooring as people enter the home. Be careful when choosing rubber backed mats because they can permanently stain some vinyl floors.
Easy to care for, durable, affordable, and comfortable, resilient flooring has a lot to offer Columbia residents.

What Our Clients Are Saying
Excellent work and attention to detail. Good communicator. Goes above and beyond. Will not hesitate hiring him again for other projects.
The floors looks better than then did when new. The contractor was professional and did a wonderful job, showed up on time and performed the work as agreed. The crew was very hard working. I would highly recommend them.

Our Services
Our graphic designers have prepared this unique layout - based on any previous marketing materials you may have provided and the style of site you indicated. This written content will be replaced once you approve the look and feel of your design.
Contact BR Flooring
If you would like to learn more about Columbia Resilient Flooring, please contact us at 443-904-1020 or complete our online request form.