How to Maintain Your Hardwood Flooring in Columbia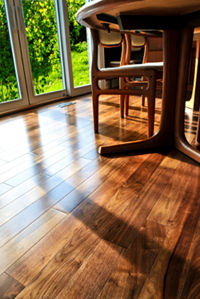 It is convenient to have hardwood flooring over carpeting any day. That's because hardwoods are a lot easier to keep up with and do not need to be replaced all that often. But what a lot of people don't know is that hardwoods need to be maintained in order to lay and that's why some flooring companies offer wood floor maintenance.
It's always a good idea to have your floors professionally cleaned annually. In-between though they need some good ole' TLC. Dirt scratches hardwood flooring, dust makes your pets sneeze and can even cause slip and fall accidents.
There's no need to go out and buy the most expensive cleaners for your flooring. Just because they smell pretty and have a neat label is no way to judge how well it will work on your floors. You're taking quite the gamble in this case.
Home methods for "green" cleaning the home:
Use teabags
Dishwashing detergent
Lemon juice
Boil two teabags and let them sit in a pot of water. After a few minutes, pull them out of the pot and put them into the bucket of water. Dunk a soft cloth in and wring it out. In order for a more terrific shine, wipe the damp cloth all over the flooring in your Columbia home.
Some say to use ¼ cup of mild dishwashing detergent to the bucket of water before mopping. A wee bit of baking soda on a damp sponge will help remove scuff marks. Dishwashing liquid will make your hardwood floors brighter than they are.
Lemon juice has been a known remedy for everything from cleaning agents to spot removers. A half-cup of lemon juice will help remove strong odors, mildew, grease, wax and other build-ups. Also adding a small amount of olive oil will condition the flooring.
If you're trying to duck out of mopping your hardwood flooring, don't. Mopping helps to get rid of the dust and dirt that has built up on it over time. Using just plain old hot water won't help get your flooring cleaner either.
Hot water does nothing but leaves behind marks and streaks that will need to be gone over again and again. That's why you need to use some type of cleaning agent whether it be lemon juice, olive oil, dish detergent or whatever.
In-between your yearly professional wood floor maintenance, your flooring needs to be taken care of in order to make it last. You'll be able to have the shine and condition you need when you attend to your flooring on a weekly basis.

What Our Clients Are Saying
Excellent work and attention to detail. Good communicator. Goes above and beyond. Will not hesitate hiring him again for other projects.
The floors looks better than then did when new. The contractor was professional and did a wonderful job, showed up on time and performed the work as agreed. The crew was very hard working. I would highly recommend them.

Our Services
Our graphic designers have prepared this unique layout - based on any previous marketing materials you may have provided and the style of site you indicated. This written content will be replaced once you approve the look and feel of your design.
Contact BR Flooring
If you need more information on How to Maintain Your Hardwood Flooring in Columbia then please call 443-904-1020 or complete our online request form.