3 Helpful Tips To Protect Your Hardwood Floors This Winter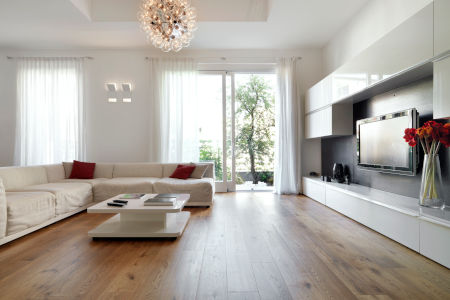 There is no doubt about it, this winter has been one of the colder ones in recent memory, and while there are no doubt many things that need to be done around your home in order to keep your house in good shape this winter, it is important that you don't forget about your floors when doing so. If you have hardwood floors in your home, you might be surprised to find out just how rough the winter months can be on them, and how easy it is for them to sustain damage in that time. Hardwood flooring is a major investment, and with the right care, it can be one that you and your family can continue to enjoy for many long years to come. In an effort to make sure that is the case, our team of professionals have taken the time to put together this short list going over a few helpful tips that might help you better care for your hardwood flooring this winter and keep it well protected going into the spring.
Use Protective Rugs & Covers
As anyone who has lived in the area for any length of time can tell you, during the winter months, the entryways of your home are going to get dirty. Between snow, dirt, and salt, there is going to be a wealth of that nasty slush that is going to be tracked into your home during the winter months as everyone comes and goes on a daily basis, and it can really take a toll on your hardwood floors over time if you aren't careful. Salt in particular can leave behind a white residue that is highly abrasive and can scratch up your floors very badly. Using rugs and covers around these areas of your home will help to reduce how much of this is tracked in throughout your home, helping to spare your hardwood floors from the worst of it, as well as reducing the chances of slipping and falling.
Sweep & Clean Your Floors Regularly
As we stated above, there is no shortage of filth and debris that is going to be getting tracked into your home during the winter months, and one of the best defenses against these is just to make sure you are regularly sweeping and cleaning your floors to remove it. Puddles of water from melting snow and ice can be particularly destructive to your hardwood floors, and as such, it is important to make sure you clean them up immediately. After absorbing the moisture with a towel or cloth, it is a good idea to give your floors a good mopping to remove any abrasive debris that might still be in place before drying the floors once more. Be careful when mopping these areas, however, as if you have debris that gets mixed into the water, you could actually wind up causing damage.
Keep Your Home At The Right Temperature & Level Of Humidity
Lower temperatures and drier air can both be rough on your hardwood flooring. The lower temperatures of winter, combined with the drier air can actually cause your floorboards to shrink or otherwise warp out of shape. This makes it extremely important to ensure you are maintaining the right temperature in your home, but also the right level of humidity. As your boards shrink and dry out, it is very easy for them to warp out of shape, crack, or split, causing irreversible damage to the wood itself. Making sure that you are running your homes' heating system will help to prevent much of this shrinking, and by running a humidifier in your home, you can ensure that your home has the right level of moisture in the air to keep your hardwood floors from drying out and becoming damaged.

What Our Clients Are Saying
Excellent work and attention to detail. Good communicator. Goes above and beyond. Will not hesitate hiring him again for other projects.
The floors looks better than then did when new. The contractor was professional and did a wonderful job, showed up on time and performed the work as agreed. The crew was very hard working. I would highly recommend them.

Our Services
Our graphic designers have prepared this unique layout - based on any previous marketing materials you may have provided and the style of site you indicated. This written content will be replaced once you approve the look and feel of your design.
Contact BR Flooring
If you are looking for a flooring company in the Baltimore area, give us a call today at 443-904-1020 or complete our online request form.